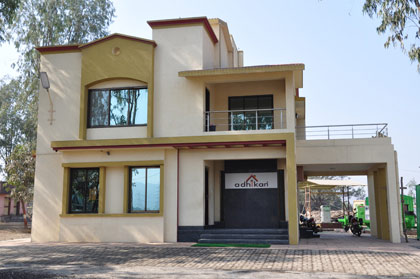 Adhikari group has served the construction industry's needs since 1989 under visionary leadership of Mr. Vinod Adhikari. Adhikari group is customer focus company which provides quality building material & earthmoving services on time. Adhikari group is one stop solution provider company in Boisar, Tarapur & Mumbai for all type on construction requirements in construction industry.
Adhikari group of companies provides building material, transportation of building materials, ready mix concrete & earthmoving equipment for constructional requirements. We are capable to handle large size construction projects with the help of our modern construction machineries like excavators, tippers, and transit mixers. We have in house production of metal stone, artificial crush sand & verity of readymix concrete that assures quality of building material at cost effective rates. We supplied building materials & earthmoving equipment to large scale commercial, residential projects in Boisar, Tarapur, Mumbai & Vapi. Adhikari group has earned reputation in construction industry working with large multinational companies like L&T, TATA, Jindal, Viraj, Mandhana & many more happy clients.
Adhikari group is strongly committed to achieving industry best practice standard of environmental management to preserve our sites and our communities. We are committed to build a greener, cleaner and safer future for environment.